This is the fourth in a series of posts, wherein we'll be discussing the origins and evolution of insurance industry outsourcing. In this post, we discuss how the outsourcing industry evolves, providing distinct offerings.
Over the last decade, insurance outsourcing has evolved to meet market needs. Like in many developing industries, outsourcing providers have taken different approaches to serve insurance clients. Today, providers mostly fall into three categories: Traditional, Transactional and Strategic. Here's what that means:
TRADITIONAL BPO/OUTSOURCING MODEL
This is the traditional model, wherein a company delegates certain tasks to the outsource provider and they are completed to a defined service level. The main benefit of this type of outsourcing is wage arbitrage. Tasks are performed by trained staff, generally off-shore where wages are lower, and the benefit is mostly the difference in cost to get the tasks completed in house as opposed to by the outsource provider.
Traditional outsourcing can also reduce internal staff's workload, allowing them to shift focus to higher value work depending on the type of tasks outsourced. It can also reduce the reliance on hard-to-find and retain junior staff. But for the most part, the focus is on wage arbitrage.
TRANSACTIONAL BPO/OUTSOURCING MODEL
The transactional model is about resolving specific issues, such as processing bottlenecks. Let's say an insurance company has a backlog on policy checking. This can increase an organization's risk exposure and is non-compliant with regulations. An organization may choose to solve the backlog or specific issue by outsourcing its resolution. The driver for this is two part, there is the benefit of wage arbitrage, but the real benefit is the resolution of the spot issue.
Transactional outsourcing solves a specific issue at a specific time, though it will not solve the root cause of an issue that enabled the problem to flourish.
STRATEGIC BPO/OUTSOURCING MODEL 
Whereas the traditional and transactional models look to resolve specific issues or tackle certain tasks on an ongoing basis, strategic outsourcing takes a holistic view of operations. That means examining an organization's strategy, people, processes, and technology and aligning them for improved outcomes. By taking a strategic approach to outsourcing and operations as a whole, the benefits are no longer limited to solely a wage arbitrage play.
ReSource Pro pioneered this approach within the insurance industry. Understanding that the real benefit for organizations didn't just lie in processing tasks, but in optimizing operations to remain relevant in today's disruptive and challenging business environment. With this approach, it's not enough to complete a given process at a lower cost, it's about improving and standardizing that process so it's more efficient, accurate and aligned with organizational objectives.
Taking a strategic approach to operations means that an organization's defined strategy is aligned with operations. It means that the right people, with the right skills are doing the right jobs. And that processes are optimized for accuracy and efficiency, and then standardized across the board to eliminate waste and deviation. The final piece is the technology. Organizations need to ensure they have the technology and tools to support all of this. At ReSource Pro, our technology focus is on Analytics. By helping our clients leverage the data they're already collecting, our Analytics solutions provide them with valuable business insights to improve their operations and business – both closing and starting the continual improvement loop.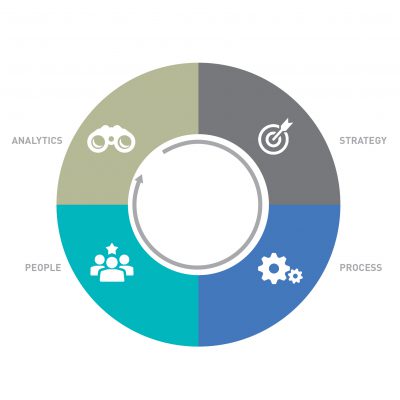 When insurance organizations take a strategic approach to operations, they open the door to profitable growth. Business objectives and goals are aligned with operations so they are more easily achieved. Staff are more satisfied with less administrative work and a focus on higher-value work, leading to less attrition. Processes are more accurate and efficient, reducing or eliminating exposure and providing clients with improved service levels and Analytics provides valuable insights to improve and capture opportunities.
Just like the insurance industry, 'outsourcing' has evolved so that in some cases, the term is no longer descriptive enough.
About Resource Pro
ReSource Pro helps organizations align their operations to their business strategy. Our holistic approach brings together best practices around strategy, process, people, and analytics in order to supercharge your business performance.
Learn more