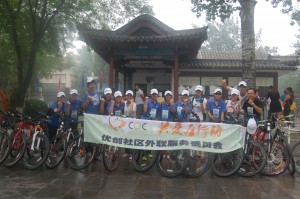 One of ReSource Pro's values is the commitment to the communities in which we live and work. We contribute back to these communities to strengthen the relationships with our communities and offer meaningful opportunities for our employees to help those in need,
The ReSource Pro Community Outreach Committee (COC) organizes regular activities allowing our employees to volunteer their time and talents to a variety of projects and causes.
2013 was a fantastic year for giving back! From organizing donations to impoverished communities to raising money for local charities and orphanages, the ReSource Pro Community Outreach Committee (COC) was busy all year.
Overall, in 2013 The ReSource Pro Community Outreach Committee:
Mobilized 924 volunteers in all three offices in Qingdao, Jinan & New York.
Volunteered a total of 1700 hours
Organized and participated in 18 events
Raised ¥5,868 for donation to local charities
We are proud of our volunteers and look forward to another year of giving back!
About Resource Pro
ReSource Pro helps organizations align their operations to their business strategy. Our holistic approach brings together best practices around strategy, process, people, and analytics in order to supercharge your business performance.
Learn more