Digital Transformation
Scale your insurance organization profitably with our automation and data analytics solutions.
Shorten the Runway for Digital Initiatives
The need to invest in digital transformation is high, yet studies show 70% of them fail. How can you move into the digital age with confidence? Leverage ReSource Pro's expert integration of digital capabilities, analytics, and operations management to maximize the impact of technology on your organization's efficiency-and profitability.
BOOST PRODUCTIVITY WITH AUTOMATION
Find a partner with true expertise in both automation and insurance processes.

Scale profitably with automation solutions

Modernize with insurtech innovations

Make smarter decisions with the use of data

Minimize the risk of launching a new technology
Data Analytics
Analytics help you see what's working and what's not. Field-tested and value proven, ReSource Pro's Analytics Suite pulls data from disparate systems and maps it in easy-to-use dashboards, highlighting millions of dollars in identified revenue opportunities. Easily access and share your insights with our reporting tools. The data you're already producing holds valuable information—we help you interpret that data into actionable insights.

Insights to Drive Performance
POLICY INSIGHTS
Retail brokers can gain insights on the drivers of endorsement costs and the exposure each carrier partner is generating from policy errors. Powered by AI, machine learning, RPA, and OCR technology, it's a leading-edge tool.
CARRIER INSIGHTS
This all-in-one platform helps retail brokers track and manage carrier incentives. Users have seen contingency income improve 40% with Carrier Insights.
Integrated Automation
Since its founding in 2003, ReSource Pro has built up a library of 19,000 streamlined processes. Now we leverage that library and apply robotic process automation (RPA) where it has the most impact, using an integrated set of digital capabilities along with people, process, and data.

Thousands of hours of manual processing eliminated

100+ automation experts specializing in tools such as UiPath, WinAutomation, and Decisions Workflow

80+ clients utilizing ReSource Pro's automation capabilities in insurance workflows
Artificial Intelligence
The promise of artificial intelligence (AI) is being realized in many industries, including insurance. Integrating AI into the domain of insurance can enable smarter and more effective decisions, including submission triaging, recommendations of lines of coverage to cross-sell to your accounts, or even unlocking data trapped in your loss runs and policies.
Realize the benefits of AI in your organization with a customized solution designed by ReSource Pro's process and technology experts. Packaged together with RPA, AI can enable your processes to be smarter—all with a human touch.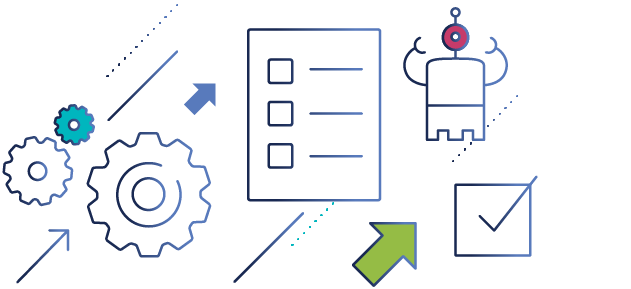 User Experience
At the end of the day, our work is about the policy holder's experience. We take pride in finding new ways to create an exceptional insurance experience.
To help our clients better service small accounts, we developed white-labeled, guided platforms for insureds to go through the new business and renewal processes in the most frictionless way possible. These smart forms cut down on the time usually spent calling and manually filling out forms. The process is also entirely digital, unlocking the data for analytics.