Susan serves as VP, Growth Solutions at ReSource Pro.
How insurance producers can stay on track
At the end of the day, every producer has the same three goals: to become known and develop new opportunities, differentiate and close new business, and retain and grow existing accounts.
It is how these goals are pursued and how much time is committed to execution that determines success. When producers are relentlessly focused on allocating the necessary time to the key drivers of success, it has an amazing impact on their ability to reduce the noise that often causes them to go off track.
In our work with insurance agencies, we often hear that producers are good at planning but sometimes have difficulty following through. To help producers stay focused, we've developed the "Focus Formula," a simple equation to enhance success.

To illustrate how this formula works, let's apply it to one of the three goals many producers face, outlined above.
Goal #1: Becoming known
The activities to become known will vary from producer to producer but can include joining, contributing, and networking within an association related to their perfect-client type, such as a manufacturers or contractors association. Another set of activities includes writing articles, blogging, and recording webinars or video messages on topics of interest to prospects. And finally, researching and calling prospects to facilitate introductions is a staple of every business development strategy.
These sets of activities require time to execute. Yet when we ask producers, "How much time do you have on schedule to connect and communicate with prospects?" the answer frequently turns out to be not enough.
The time necessary to gain traction differs from producer to producer, but at a minimum, producers should consider the following dedication of time on a weekly basis:
3 hours to research new prospects
3 hours to focus on topics that are relevant to their perfect client type to write a blog, post on social media, send emails, or record a podcast or webinar
3 hours participating in networking activities, association meetings, or center of influence development
Putting the Focus Formula into action toward becoming known, or toward any other goal, isn't difficult, it simply requires dedicating time on the calendar and committing to execution.
Applying the Focus Formula to each of the goals mentioned will help drive execution and ultimately lead to success. Seeing the time set aside on the calendar like an appointment and treating it as one with a valued client will develop important habits. It will also illustrate just how much "white space" is left to accomplish other activities.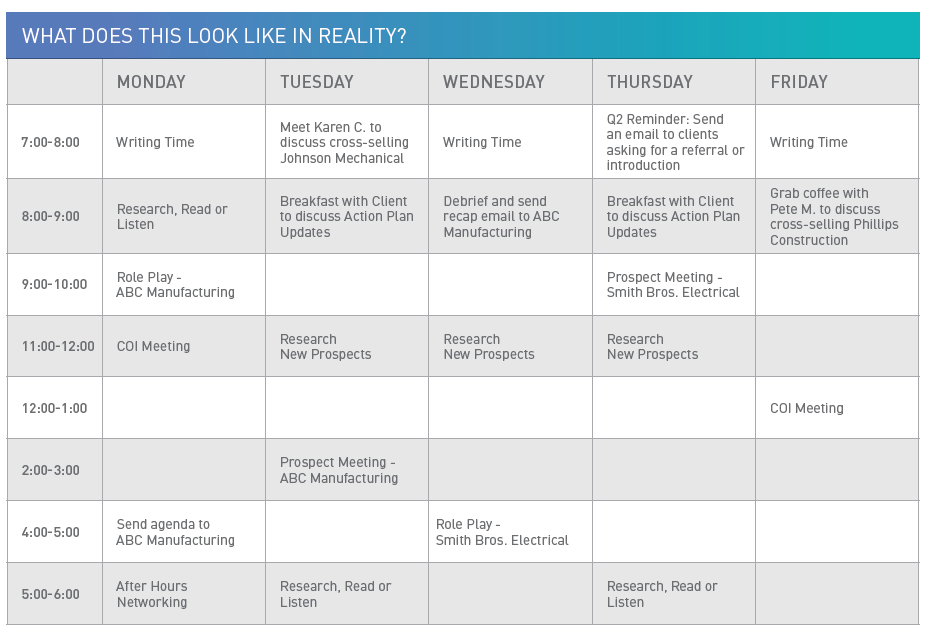 Read more
---
Learn how Growth Solutions helps agencies and carriers differentiate and achieve greater profitability.