The ReSource Pro Consulting Digital Maturity Model
There are as many paths to digital transformation as there are insurers. Each is unique based on the product mix, distribution strategy, culture, and state of the company's systems and data. However, ReSource Pro Consulting has developed a framework for assessing digital capabilities that insurers are using successfully. The framework, illustrated in the figure below, is a starting point for understanding a property and casualty insurer's orientation in the digital journey and evaluating and prioritizing current and planned digital projects.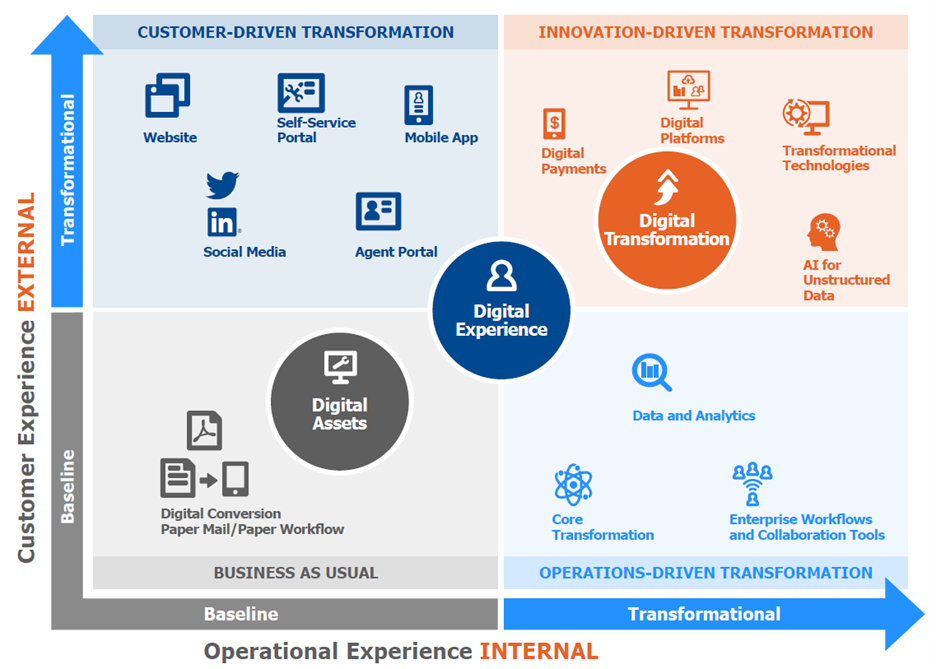 The Digital Maturity Model has three dimensions that are important to understand:
1. The stage of the digital journey (the circles)
The first stage of the digital journey is all about digitizing assets. This has been underway for decades in insurance. Various forms, documents, and communications have gradually shifted from paper and manual to digital content and workflows.
Most insurers are currently in the second stage: digital experience. Here, the effort is devoted to providing digital capabilities for policyholders, agents, and employees in the context of their individual journeys. The objective is to create improved experiences in their interactions and transactions.
The final stage is digital transformation. Few insurers are at this stage since it implies a fully digital enterprise that is able to respond rapidly to market opportunities, spin out new products, launch new business models, and capitalize on innovative technologies.
2. The primary focus of the digital transformation (the x-y axes)
Historically, the industry has been operationally focused (the x-axis), taking an inside-out view for strategies and plans. The attention is on being more efficient, reducing costs, satisfying regulations, and effectively delivering on the insurance promise. In recent years, more insurers have become focused on customer experience (the y-axis), taking an outside-in view to drive strategies and plans. The best approach is to find the right balance of the customer experience and operational experience orientations.
3. The nature of the transformation (the 4 quadrants)
The four quadrants created by this 2×2 grid represent four approaches that are being taken by insurers. Every insurer will have projects in every quadrant, so it is a matter of where the most emphasis is placed.
A customer-driven transformation (upper left quadrant) prioritizes digital projects that provide new capabilities for customers (which may be policyholders or agents). An operations-driven transformation (bottom right quadrant) focuses on strengthening the foundation with modern core systems, business intelligence, and technologies that improve internal operations.
The upper right quadrant is called "innovation-driven transformation" and is dependent upon progress in all other quadrants. In this area, insurers leverage digital platforms, transformational technologies, and insurtech partners to supercharge their transformation.
The projects that are the focus of this research are in the three transformational quadrants. Activities in the business-as-usual quadrant remain important—indeed, they are foundational and create the platform upon which other more transformational capabilities can be built. However, these types of projects have been underway for some time and are well-known by the industry, which is why they are considered business-as-usual.
Where are you in your digital journey?
Achieving innovative digital transformation will require insurers to balance both operations and customer-driven digital strategies and capabilities. If you need help evaluating where your organization stands in its digital journey or what digital projects to prioritize next, visit our Carrier Consulting page to see what ReSource Pro can do for you.